A Proven Performance Program
Breeding Angus Cattle for Over 45 Years, 4 Generations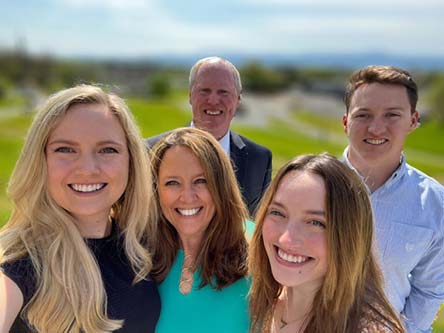 Alexandra, Lori, Lee, Ashley and Andrew

---
History of Grassy Valley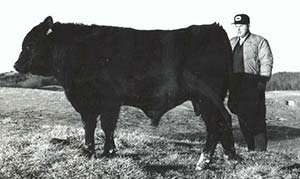 Ducky and Emulous Pinpointer 7000 - 1975
Unknown to him at that time the beginning of Grassy Valley Angus traces its roots to rural Union County Georgia around 1918 when young Ancel Duckworth began to take on responsibility for the care of the family cattle. As was the tradition at the time, the cattle ran loose in the mountains searching for pasture and young Ancel's job was to ride out to check them using the bells tied around their necks as the only aid in locating the herd. The family relied on cattle for milk, food, and labor as they worked yoked oxen in their fields. From these beginning, Ancel developed a life long passion for cattle and livestock industry. That passion drove him to attend The University of Georgia where he graduated with a Doctor of Veterinary Medicine degree in 1929. Ancel was originally employed by the State of Georgia, but he was looking for something more. He had heard about Greene County in Tennessee where there were large numbers of dairy and beef cattle and he decided to go visit the area and take a look. Following a few visits he decided to move his young family to Tennessee in 1933 and established his practice in an extra room at the Greeneville Livestock Market becoming the first licensed Veterinarian in Greene County.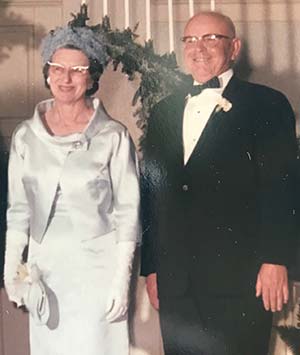 Dr. Ancel and Sara Duckworth He worked with local farmers extensively on dairy and beef cattle as well as a large number of hogs. His practice and his family grew and he moved his office a couple of times before building a permanent location just off North Main Street. Following World War 11 he was able to purchase a small farm of his own.Shortly after that purchase he traded that small farm for a larger one across the road in partnership with his younger brother Jack. In 1959 Ancel's son "Ducky", A. L. Duckworth Jr., graduated from Auburn University College of Veterinary Medicine and returned home to practice. Ducky bought Jack's interest in the farm and with Ancel's help began buying some commercial cows for their operation. Over time they noticed that their Angus cows just did a little better than the others and they became hooked on Angus. Their ideas for improvement differed with Ducky believing a quality bull had the greatest genetic impact on the herd and provided the fastest road to improvement.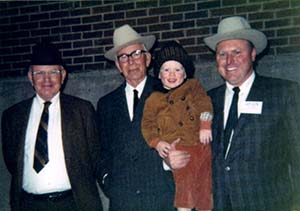 Ancel, Frank (Big Daddy), Lee, and Ducky Duckworth - 1968 At this time, without any performance measures or selection tools, the prevailing logic of the day favored extremely moderate "baby beef" type animals. Ducky purchased some of these bulls from a nationally prominent herd in the area and they were introduced to the cow herd. Ancel and Ducky were very active in the local feeder calf sales and marketed their calves through those sales. Realizing they sold cattle by the pound they realized that there had to be a better way because their "baby beef" sires were not adding any pounds and their calves were just too small. Ducky understood genetics and understood that yearling weight was the most heritable performance trait. He had been reading about some higher growth, feed efficiency tested Angus bulls in Kansas and decided to go take a look. Liking the larger higher performing Emulous cattle he purchased three bulls and brought them back to Tennessee. He often remarked that those bulls had added 50 pounds per calf at the feeder sale the next year and that he could understand that difference real well. They were hooked on performance cattle from that moment on.
In the fall of 1966 Ducky purchased his first registered Angus cows from Jerry Morrell who was managing Steadman Farms at the time. Over the years the number of registered cows continued to grow as daughters were retained in the herd and the commercial Angus cows were gradually eliminated. Ancel was extremely proud of his registered cows and understood the value of pure documented genetics, often remarking that cross bred cattle were unpredictable mongrels. Over this same time period additional land was purchased and the number of cows was able to increase.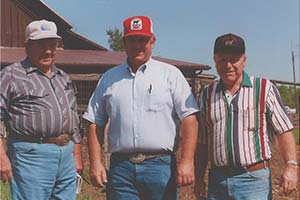 Ralph Bridges, Harvey Lemmon, and Ducky - First Sale 1994 Through the mid to later 1970's the pendulum of popular Angus genetics swung to the opposite extreme favoring very tall and often not too thick cattle. Without any EPD's or selection indexes of any type some of these genetics were incorporated into the herd though artificial insemination especially after the introtroduction of lutalyse and the ability to synchronize heats for breeding. These taller, thinner cattle were very unproductive in our environment and quicky they realized that something had to change. At this time a lot of things were changing in the Angus world. The widespread use of computer technology had allowed the development of Estimated Breeding Values followed quickly by the first Expected Progeny Differences. The need for change fueled the early use of these technologies and the livestock industry was changed forever. These new technologies were incorporated into the herd as birth, weaning and yearling weights were now taken and submitted by mail to the Angus Association for incorporation into the data base and the old, but very practical, method of comparing average feeder sale day weight was abandoned.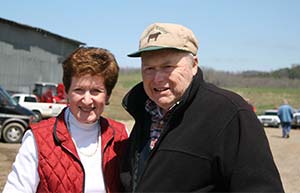 Dr. A.L. (Ducky) and Nancy Duckworth
In 1992 Lee Duckworth graduated from the University of Tennessee College of Veterinary Medicine and returned home to practice. He began to gradually take over the day to day operation of the farm and continued to incorporate each new technology for evaluating all aspects of beef cattle performance. Birth weights, weaning weights, yearling weight, ultrasound carcass evaluation, heat synchronization technologies for artificial insemination, embryo transfer, genomic testing, and Maternal Plus whole herd evaluation are just a part of daily life these days. Just as Grassy Valley began as a commercial operation, cattle are still selected to perform in our practical environment so they will perform for commercial cattlemen in the southeast.
In 1994, at the urging of Tom Burke, the first production sale was held featuring both bulls and females. During the 90's marketing Angus bulls was a much more difficult proposition, but Tom insisted remarking "No business can survive marketing only half of what it produces." He was correct and the commitment to the production of high quality Angus bulls that meet the needs of commercial cattlemen was solidified.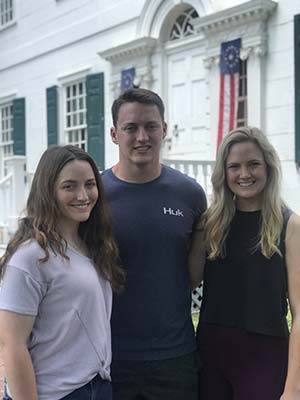 Alexandra, Andrew, and Ashley Duckworth The Annual Production Sale has continued over the years as each new technology was embraced to better evaluate our product and determine its true genetic merit. After all our job is to use all available resources to most accurately characterize the genetic merit of each animal so that the buyer knows how to use them.
Ancel passed away unexpectedly in 1981 but was blessed to spend the last evening of his life driving through the pastures looking at the cows that he loved. Ducky passed away in 2016 after battling dementia for many years. Ducky had instilled the value of unbiased performance measurements and evaluation upon all of us, there were no short cuts to success in his book, but success was attainable by everyone who dared to do the work, and endure the challenges that were certain to come while still holding to the values of character and integrity he held so dearly.
Today as the fourth generation in Ashley, Andrew, and Alexandra enter adulthood the mission remains unchanged in that we expect the next generation to be better than the last. The process continues on the farm as we quietly go about our business objectively characterizing the genetic merit of our product in order to best predict its future performance. What had begun, a little over 100 years ago, as Ancels's dream to have a few cows of his own, has grown literally one piece at a time into 377 females as we prepare for our 30th Production Sale.